Athanasius Kircher (1602-1680) is known to historians, orientalists, esoterics and naturalists as "the last man to know everything" and the "Master of the Hundred Arts". Jesuit scholar, he was a multifaceted polymath, whose writings covered a vast spectrum of knowledge: from geology to medicine, from music to Egyptology, mnemonics and optics. He taught for forty years at the Collegio Romano where he founded a public cabinet of antiquities and curiosities, considered the first museum in the world (Wunderkammer).
Hermes Rare Books presents at Mantua Fair of Rare Books and Prints three of his works in first edition and contemporary binding.
1.
MUSURGIA UNIVERSALIS SIVE ARS MAGNA CONSONI ET DISSONI IN X LIBROS DIGESTA…
Roma, Eredi F. Corbelletti, 1650
First edition of Kircher's musical encyclopedia, written at the time of the transition from the old Renaissance polyphony to the new Baroque style where he discusses inventions of his own such as the talking statue, the megaphone and numerous mechanical instruments to produce sounds, including the Arca musarithmica or music composer. Musurgia Universalis is a combination of the scientific study of the music history and musical instruments as well as an attempt to scientifically explain musical harmony and sound theory. Kircher also theorized that the harmony of music reflected the divine proportions of the Universe.
ARS MAGNA SCIENDI SIVE COMBINATORIA
Amsterdam: Janssonius van Waesberge, 1669.
First and only edition of one of the most influential works of the multifaceted Jesuit polymath.
«Nothing is more beautiful than knowing everything», we read in Greek on the engraved title page, under the Divine Wisdom. His fundamental idea of connecting all branches of science in a common system is based on the thoughts of the philosopher Ramon Lull. "He represents the research of the seventeenth century for a universal language" (Merill) and is considered a "fascinating anticipation and precursor of computer science" for its treatment of combinatorial art. At the same time, this bizarre combination of philosophy, science, religion and fantasy represents a handbook of mnemonics and a method of learning.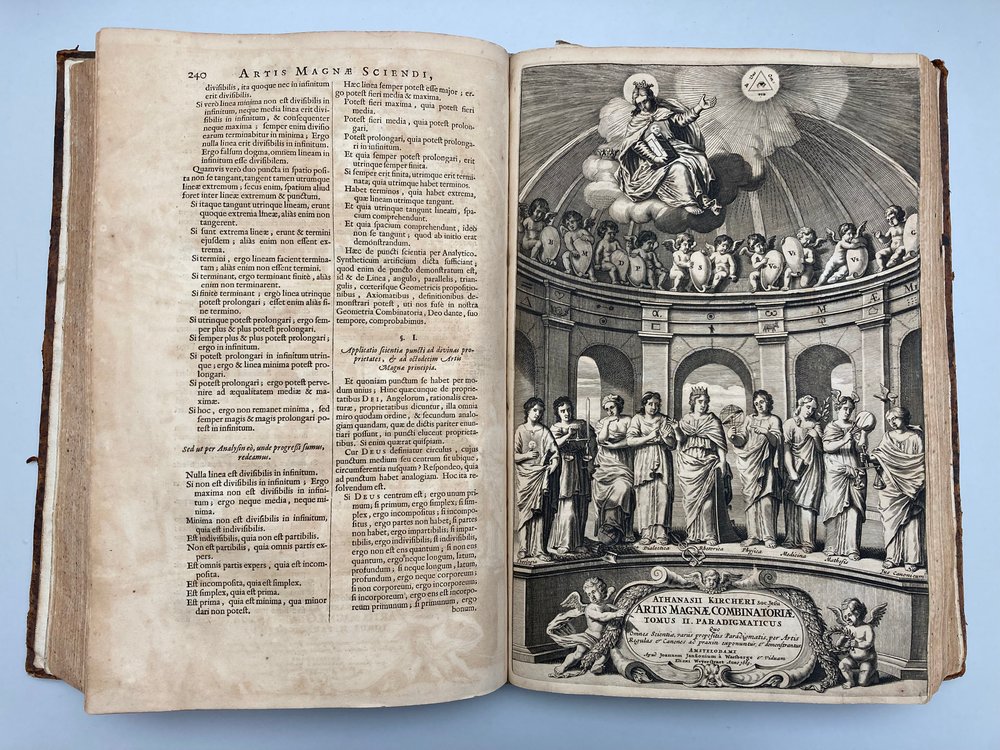 3.
LATIUM. ID EST, NOVA ET PARALLELA LATII TUM VETERIS NOVI DESCRIPTIO.
Amsterdam, Apud Joannem Janssonium à Waesberge et Haeredes Elizei Weyerstraet, 1671
First edition. The guide of the multifaceted Jesuit Athanasius Kircher (1602-1680) takes us on a real and learnt journey through Lazio and ancient Etruria, «where detailed descriptions of the places, the surviving monuments and their pristine natural environment blend into an archaeological landscape, the result of both imaginary reconstructions and personal experiences and direct observations. An echo of these seventeenth-century naturalistic ideas can be derived from the work of famous landscape designers such as Salvator Rosa, Nicolas Poussin, Claude Lorrain and Gaspar Dughet, acolytes of the Academic Circle to which the Jesuit belonged » (Camilla S. Fiore). The numerous copper tables show ruins, villas, gardens, landscapes, coins, floor plans and views.